Okay, maybe I am being a little more critical than called for. However, the three YA books in this review published in January can really get you down, make you mad, and frankly just contemplate life.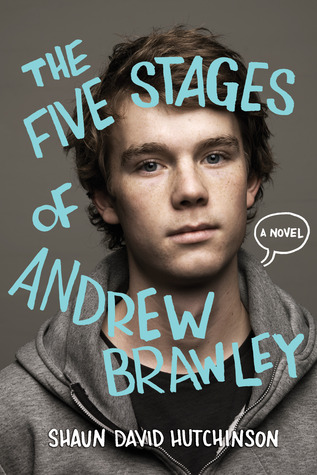 The Five Stages of Andrew Brawley
by Shaun David Hutchinson
Pub
: 1/20/2015
Pgs:
336
Arc Received by Edelweiss
This story is about a boy named Andrew. He is lost, alone, angry, and desperate. Working under the table at the hospital cafeteria, volunteering in the E.R., and visiting various sectors of the hospital are the things Andrew looks forward to; facing reality is the last thing on his mind. He's been able to stay off the radar and blend into the sterile atmosphere in the hospital; however, on July 4th after a terrible party accident sends a teenage boy to the E.R. badly burned Andrew's anonymity amongst the hospital may be put at risk. There is something about this boy-Rusty- that pulls and Andrew, and also pulls the past back into focus for him. After losing his family Andrew hasn't been the same, but what if something tragic happens to you and it's your fault? Can one ever forgive themselves and accept who they really are? And when reality strikes, how far will you go to keep from living it?
I really enjoyed the story, and found myself to be equally engrossed and angry. This story will make you upset, angry, sad, scared, and ultimately hopeful.
4 out of 5 stars, thanks Edelweiss.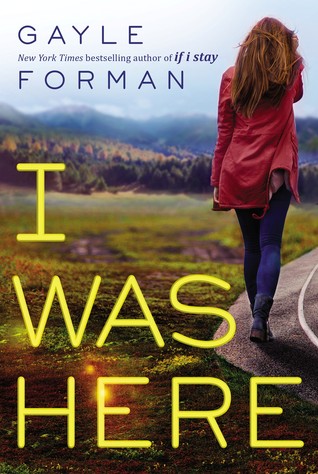 I Was Here
by Gayle Forman
Pub
: 1/27/2015
Pgs:
288
Arc Received by Edelweiss
Best friends sometimes doesn't mean forever. We have all experienced growing up, moving on to college, losing that extreme connection to someone we considered are better and other half. Cody and Meg's friendship is no exception to the rules. As little girls they were inseparable; Meg was the light of Cody's life. However, life took both girls to completely different places, and as they grew apart both lived out a different life. But how was Cody supposed to know that her friend was keeping a deadly secret? After Meg is discovered dead by suicide, Cody has to come to terms to one of the greatest losses she has experienced. And as she comes to these terms, she slowly begins to learn things about Meg's life that she had never known existed. Trying to reconcile her memory of her best friend from this secretive and desperate girl who eventually took her life isn't easy, but Cody becomes desperate herself to figure out the last chapter of her friend's life. Encountering roommates, past flings, and eventually a secret that will shock her Cody discovers that sometimes the people we love are not exactly who we thought they were.
This story was such an emotional roller coaster. At first I thought it would be a story of discovery, but it delved so much deeper into the world of depression and suicide. It's great when stories give a voice to, perhaps, taboo subject. But the point still remains, depression can and does effect many including their family and friends. Coming to terms with a loved one's depression/suicidal tendencies, or coming to terms with your own is a very scary thing because no one wants to talk about it. Instead we shame each other by making it taboo, and in the end all that was possibly needed was an ear to listen and a shoulder to lean on.
4 out of 5 stars, thanks Edelweiss.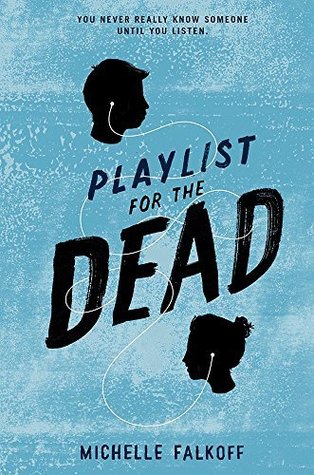 Playlist for the Dead
by Michelle Falkoff
Pub
: 1/27/2015
Pgs:
288
Arc Received by Edelweiss
After a terrible ending to a party Hayden decides to take his own life. His best friend Sam, ready to apologize, is the one to find Hayden lying dead in his bedroom the next morning from a drug overdose. The only clue he left behind was a playlist, specifically for Sam. Now Sam immerses himself in the playlist trying to figure out why his only friend was so desperate enough to kill himself. Soon Sam starts figuring out that Hayden had some secrets that he didn't even share with him. Full of bullies, amazing songs, revenge, and puzzles this book is sure to keep readers entertain. My only problem with this book is the revenge aspect, and who is dishing it out. Especially since things end so flatly and almost as if done quickly to run away from the story itself.
3 out of 5 stars. Thanks Edelweiss.