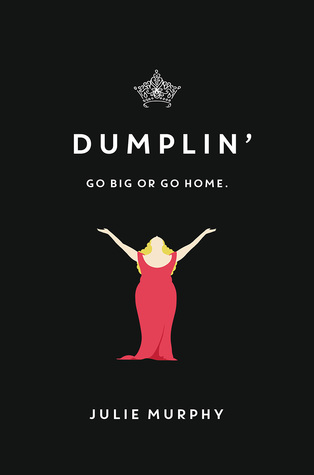 Dumplin'
by Julie Murphy
Pub
: 9/15/2015
Pgs:
384
ARC Received by Edelweiss
I loved. loved. loved
Dumplin'
. First, the main character's name is Willowdean, that's just precious, and then she's a self proclaimed fat girl. Secondly, even though she does proclaim herself to be fat, she's not bounded by that. If she wants to go swimming, she puts on a bikini and goes. Sure she has an inner monologue about how her thighs are dimply, and that she hates that she has these bad thoughts about her body because others are uncomfortable with her body. She's actually a really strong and correct depiction of what it is to be a fat girl (anyone who doesn't fit in Hollister or Abercrombie)and go to high school in America. Some of us "fat girls" will develop issues, but most of us are just trying to have a body positive attitude because frankly there are just some things we can never change about our selves, or hey, we work out and eat healthy but can't seem to fit in size 2, which is okay. I just loved Will and her attitude about life, love, and being yourself.
Not only did I like the voice coming forth from this book, but the minute Will started to talk about Private School Bo I instantly knew he was amazing. When Will felt giddy, I felt giddy; when Bo brushed her hand I felt excited; and when she was having a hard time deciding what she wanted, I also felt that way. Bo isn't perfect but he's an amazing addition to YA boyfriends.
The last thing I wanted to comment on was how natural this story progressed. Will didn't want to be in a pageant because she's not allowed to or even to make a statement. She did it because, why not. The pageant wasn't the main theme of the story, so it didn't make the message superficial, if anything it went with the theme of "why can't I" and "only you can stop yourself."
4 stars. Thanks Edelweiss.