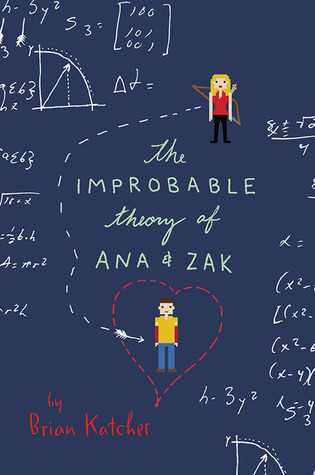 The Improbable Theory of Ana & Zak
by Brian Katcher
Pub
: 5/19/15
Pgs
: 336
ARC received from Edelweiss
Ana knows no freedom. She's never gone to a friend's house for fun, she's never been to a dance, and she's never been on a date. After a serious mistake on her sister's part, Ana and her younger brother Clayton have had the reigns pulled tight around them. All they can do is do well in school and be sheltered from any and all social aspects of high school.
Zak is your average geek. He loves to COS play, and gaming. Those are the things that keep him from grieving, and especially from having to spend time with his new stepfather. He's also a little unmotivated in school. He's not dumb, he just doesn't do what he is supposed to do. That's how he finds himself at the mercy of Ana, and the quiz bowl he has to participate. The problem... it's the same day as Washingcon sci-fi convention. Something he does every year, without fail.
Ana and Zak end up mashing into each other's worlds when Clayton disappears to go to the Washingcon. And along the way they both learn some truths about growing up and about themselves.
3 out of 5 stars. Thanks Edelweiss.