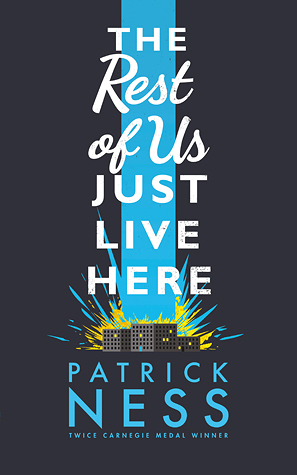 The Rest of Us Just Live Here
by Patrick Ness
Pub
: 8/27/2015
Pgs
: 352
ARC Received through Edelweiss
Patrick Ness is amazing, and this book just proved it.
The Rest of Us Just Live Here
is about ordinary teenagers that live in an extraordinary world. Where all their "indie" classmates have destinies of fighting darkness, some of them are decedents of gods, and others... much like Mikey are just plan ordinary kids trying to get by.
This is the story of Mikey and his friends trying to survive high school, fall in love, and deal with the next stage in their life, all along dealing with the fall out of the Chosen Ones and their destines. The concept is pretty simple but pretty ingenious. I have found myself wondering about the rest of the population in the books that bring fantasy, paranormal, and supernatural stories tied to the main characters. How do those other people get by? Are they in the know of what's going on? Is this a syndrome only teenagers seem to be able to see and not the adults? Did the adults ever encounter spectacular happenings when they were teens, and did their encounters cause issues for the next generation?
The characters were also great, and extraordinary, even if they were not indie kids themselves. They still dealt with all issues that come up in high school, and before you graduate. I fell in love with most of them except Henna, she was kind of a jerk, but oh well, no one is perfect. I was delighted to read something new from Ness, but I was more delighted about how the story played out.
4 stars. Thanks Edelweiss.