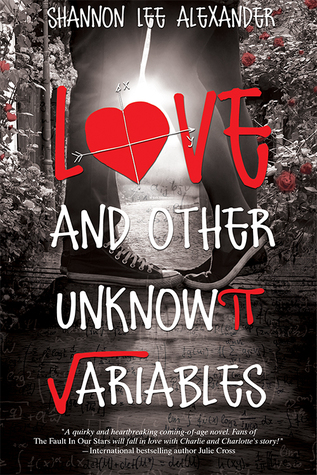 Love and Other Unknown Variables
by Shannon Lee Alexander
Pub:10/7/2014
Pg: 350
ARC received by NetGalley
"To Other Charlie, who may need reminding he's the reason the mockingbird sings."
How in the world are people supposed to get over a book, when it is written to pierce you at your core. I feel like I have been opened at the seams and love, chaos, hurt, death, fun, and life have been poured into me. These were similar feelings to the ones after I read TFiOS.
Charlie has always been a smart kid. He goes to a prestigious and rigorous school, he plans on going to MIT, and he has no luck with the ladies. So he concentrates on math and science, until one day he encounters a beautiful girl in a coffee shop with a perplexing infinity tattoo. Charlotte Finch is the girl in question. She's new and goes to school with Charlie's sister, Becca (who might have some problems, which make it difficult to be friends with people.) Becca is Charlie's little sister, someone who has a hard time with the real world but can get lost in books all day. Charlotte end up becoming friends with Becca. Ms. Josephine Finch is Charlotte's older sister, who is taking care of her and also is the new teacher at the prestigious school Charlie goes to, the school that is famous for keeping their English teachers as long as Hogwarts kept Defense against the Dark Arts teachers (loved that analogy). Charlotte ends up asking Charlie to distract her sister and come up with great pranks; however, Charlie doesn't realize that she is deflecting from something bigger, something he wouldn't have been able to guess.. even if he's a genius.
This is a story about a girl and boy and cancer. That it.. I said the magic word.. cancer. You know it's not going to end well, but every time it does. Yes, death is a possibility but I never feel like it was wrongly done, instead I look at the "living" these characters did in the story. The "living" alone is enough to get people to read this. Charlie learns valuable lessons through literature (I know math and science nerds, who knew, right?), jumps out of his comfort zones, and learns to live a little. I was so emotional reading this story because you just know something bad is going to happen and then all the good stuff happens and your just waiting for the knife to cut you down. Wonderfully executed; Charlie and Charlotte's story will stay with me for awhile.
4.5 stars out of 5. Thanks NetGalley