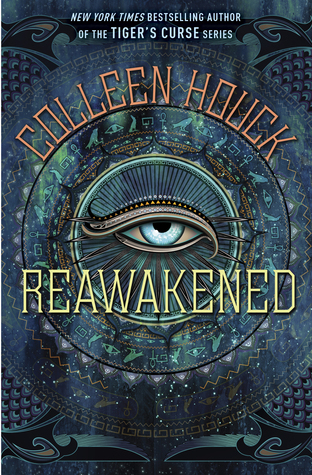 Reawakened
by Colleen Houck
Pub: 8/11/2015
Pgs: 400
ARC received through Edelweiss
"I need sustenance, Young Lily...Without my jars I must share your life force."

"Share my... Well, see, that's the thing, I'm using mine just now, thank you. Really wish I could help you, I do."
Lilliana Young is a 17 year old, who lives the comfortable life in New York City. On her spring break she decides to go to the Metropolitan Museum of Art and enjoy sometime to herself while sketching. Because Lily is known at the museum and she is part of the 1%, she gets special treatment and asks to go into one of the closed off sections of the library for some privacy. There is a new Egyptian exhibit coming along and hasn't opened yet, this is where Lily's life completely changes from sturdy and predictable to adventurous and h.o.t. As Lily is sketching she hears a noise and after investigating she finds herself face to face with a young and very attractive guy who is wearing a pleated white skirt and pretty much nothing else. This piece of eye candy is Amon, and he is definitely not from NYC or this century.
Amon is an ancient prince from Egypt, who has come back to life to complete a sacred ritual that will protect the world from chaos. He wakes up somewhere he has never woken up before, he doesn't know where his brothers are, and they need to complete the ritual before the next full moon, which is coming up soon. Not only does he have all this going on but it seems that when his coffin was moved to NYC they forgot his life force, or the jars containing his organs. He must convince Lily to help him in more ways than she can fathom, and he must link Lily to him so that he can stay alive without his jars.
Lily would like nothing more than to run away from Amon but soon she realizes they are connected in multiple ways and she's done being Lilliana Young, the perfect daughter. She gathers up her courage and sets off on an adventure of a life time with really hot mummies/princes, crazy cults, unearthing thousand year old secrets, and a flame that has begun to consume her every time she thinks of Amon. Will Lily be able to help Amon and his brothers before time runs out, or will she lose her heart and her life?
I am in love! Colleen Houck introduced readers to exotic settings, love like no other, and crazy curses in her last series; now she has created another enchanting series that could very well rival her last one. The story telling is still really great and attention grabbing, the main character is still kind of annoying (I am sorry! It's so true, it's my only issue every time), and the guys... well the guys are definitely note worthy and just *drool* . I cannot wait to find out what happens next because that prince sure knew what he was doing in the end.
5 stars all the way! Thanks Edelweiss.