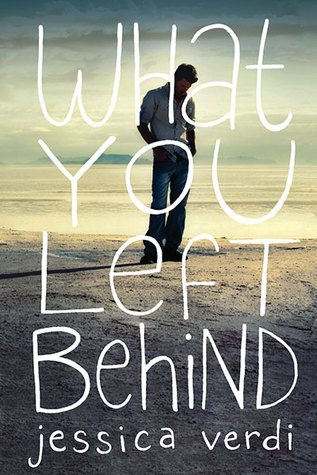 What You Left Behind
By Jessica Verdi
Pub
: 8/4/2015
Pgs
: 368
ARC Received by Edelweiss
What You Left Behind
by Jessica Verdi gave me the feels. I was crying my eyes out, and I do have to say this topic is very sensitive for me at this point. Meg was your average smart girl, who was pretty but never on the radar... at least not Ryden's radar. Ryden was the athletic jock, who all the girls liked... including Meg. After one chance conversation in class Ryden is bewitched and Meg has finally got her knight in shining armor. Being teenagers, things get hot and heavy really quick, and even though there is true feelings behind this.. it's not all truthful.
You see Meg was sick and she never told Ryden, and Ryden really liked Meg but he wasn't ready for forever. Meg gets pregnant and her cancer comes back. She had to decide if she wanted to continue chemo or keep the baby, and Meg fought tooth and nail to keep Hope (the baby girl), even though she knew there was a huge chance she wouldn't live to hold her daughter. Ryden only wanted to keep Meg alive, she was the most important part of the equation, they were too young to have a baby, and sacrificing Meg was not an option.
Unfortunately Ryden realizes something important: you cannot control life or the outcomes of others' decisions. Instead Ryden has to learn to be a single father, deal with his surmounting guilt over the situation, go to school while working and being a parent, and learn to live again. He still feels stuck in the past, and he keeps himself there with a few notebooks Meg left behind documenting their first conversation up until her death. It was such an emotional ride that I felt compelled to finish the book once I started. Ryden is completely relatable and makes numerous mistakes, and that's okay, because he portrays an average person trying to deal with life's ups and downs.
4.5 stars. Thanks Edelweiss.