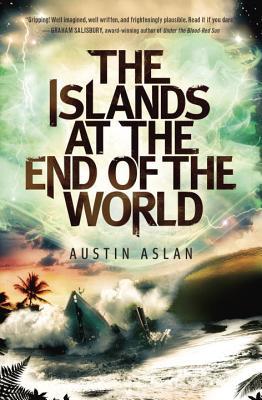 "The president's voice is strong.

'My fellow Americans, and my fellow citizens around the globe: I apologize for the deceptions of the past twenty-four hours.

Well-intentioned advisors have counseled me to keep secret what we've recently learned.

My conscience and my heart will not allow that.

I have made the determination that you have a right to know about the extraordinary—"
The flat screen turns blue.

A small text box bounces about the monitor: Weak or no signal."
Leilani is your typical teenage girl living in Hawaii with her parents and brother.
The only thing not typical about Leilani is that she is epileptic.
This has caused her to be an outsider in social groups (along with being raised on the mainland and being half Hawaiian) and also to feel bad about certain things she cannot do, like driving.
Other than that, she lives a pretty normal life.
Her father and she are leaving their island to go to another in order to get into an epileptic drug study.
Once they leave her mother, brother and grandfather at home strange things begin to happen.
First it was a meteor that struck down and created a minor tsunami, secondly Leilani has been having odd dreams of times past before humans, and finally all satellites and communication devices are down, even microwaves stop working.
Stuck on the wrong island, Leilani and her father fight their way through hysteria, internment camps, and really, really bad people.
What happens when the apocalypse begins, but you are cut off from a main land or continent?
What will Leilani do when her medicine runs out?
Why does she keep dreaming during her fits?
Are her mom, brother, and grandfather okay?
The Islands at the End of the World

is a fascinating look at one of the most popular themes in YA right now.

Almost every other book (hyperbole, people, hyperbole) in YA is a dystopian/apocalypse story that questions how we will cope if things go bad.

What can we do when all the technology that we rely on is wiped away, when life as we know it is changed completely?

All these novels take place on American main land ground, characters end up traveling crazy distances to reach resolutions to their stories; however, Leilani must travel from island to island to reach her home, and furthermore she and everyone else are cut off from the rest of the world.

They do not know how everyone else is fairing.

On top of this theme there is also the element of Hawaiian folklore/culture and aliens… that's right I said aliens or some extra-terrestrial beings.

I just found the story intriguing and also a breath of fresh air to be introduced to Hawaiian folklore, and also the perspective of islanders about the end of the world.

This book also does not lack in humor:

"I thought you didn't believe in violence."

"I never believed in Armageddon, either, but guess what?"

"It believed in you?"

Cannot wait to read the next book, pick this book up ASAP!
4.5 stars out of 5.
Thanks Edelweiss.