Unmarked
by Kami Garcia
Pub: 9/9/2014
Pg. 400
ARC Received by Edelweiss
"Laughter echoed off the walls chills rippled through me. I realized what everyone else had known all along. The boy I knew was gone. The one caged before me was a monster. And I was the one who had to kill him."
Kennedy is trying to deal with the fall out from the end of the first novel. She isn't one of the Marked, she might have orchestrated the release of a deadly demon, and now she is stuck living with her only living relative, who has sent her to boarding school. She also has to deal with leaving Jared behind. But what Kennedy doesn't know is that the Marked group needs her help, and Kennedy is going to have to deal with past demons to find the help they need. Filled with family secrets, questions, and a demon who is out to get them, Kennedy needs to figure out her role in the Marked's quest, and why the demon wants her.
Such an exciting novel/fantasy world. Garcia gives readers what they want with sassy characters, good friendships, amazing guys, and complicated rituals. This reader will be greatly anticipating the next "Mark".
4.5 stars, thanks Edelweiss!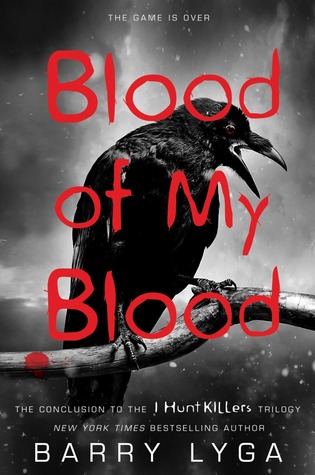 Blood of My Blood
by Barry Lyga
Pub: 9/9/2014
Pg. 464
ARC Received by NetGalley
"Yes. It was time for Jasper to put away childish things. Jasper would take the next step toward becoming a Crow. Or suffer the consequences."
Jasper is the son of known serial killer Billy Dent. In the first two books readers get to see Jasper's desperation of figuring out what is real and what is not based on his reoccurring memories. You see Billy Dent was the kind of dad that always brought his child to work, and his work was in killing.
Jasper has been kidnapped by his father, Connie (Jazz's girlfriend) is also being held by his father in a different location, and Howie is in the hospital. Jazz needs to figure out how to get away from his father, save Connie, and prove his innocence in the involvement of the murder strings conducted by the "Crows." On top of all that Jasper will have to deal with the truth about his family, and ultimately the truth about himself.
I really liked this series. Serial killers is a fascinating subject, but sometimes when it is placed in YA a lot of the interesting things are watered down to give way for more conventional YA themes (love, friendship, coming of age); however, Lyga does it masterfully enough that he never shied away from the physical, mental, and emotional gore that comes from serial killing. Nice ending to a very troubling story.
4 out of 5 stars, thanks NetGalley!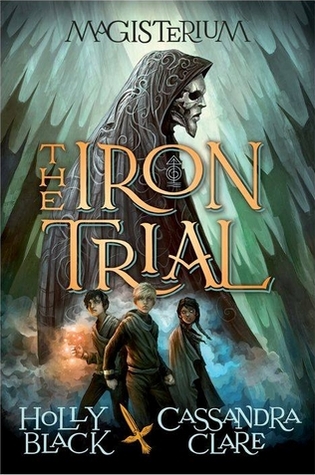 The Iron Trial
by Holly Black and Cassandra Clare
Pub: 9/9/2014
Pg. 295
ARC Received by NetGalley
"KILL THE CHILD"
Callum Hunt has always been a bit of nuisance in his hometown, especially since no one could find comebacks for his witty remarks, and of course he hasn't always been that popular seeing as his leg (it is damaged) tends to bring the worse out of others. He also has an eccentric father, who doesn't condone magic. In fact he is so disapproving of magic, that he teaches Call how to fail the test that will win him a spot in the most prestigious magical training school, The Magisterium. You see Call's mother died because of magic and war, and his father will do anything to protect Call. The problem turn out to be that, even though Call did his best to fail, another Mage thought better of leaving an untrained mage out in the world. To Call's surprise and his father's outraged disappointment, Call gets into The Magisterium. Now he has to be surrounded by the very people his father made him leery of, learn magic, and figure out the past along with a few new friends.
I really liked this collaboration between Black and Clare. Both authors have a certain flare when it comes to magic, and even though I have given Clare more 5 star ratings then anyone else, Black just does magic so interestingly. Clare does a wonderful job of world building, and in this book it is clear to see how both authors' passions and capabilities compliment each other. I cannot wait to see where Call and his friends end up in the next installment.
4 out of 5 stars, thanks NetGalley!
Kiss of Broken Glass
by Madeleine Kuderick
Pub: 9/9/2014
Pg. 224
ARC Received by Edelweiss
"And we share our best lies,
the ones that will fool any mother-
cat scratches,
bike wipeouts,
shaving nicks.
It's kind of like a club, I say.
Sisters of the Broken Glass."
This is the story of a serious condition that has become a known epidemic amongst teenagers, cutting. Kenna has been placed on a 72 hour psych hold after cutting herself in the girls bathroom. The next few days are about her journey into cutting, the cutting cult at school, and why she's even there to begin with. Filled with eye opening scenarios of young girls who cut to impress a queen bee, and Kenna is among those who were just cutting to impress, but Kenna doesn't really understand if she cuts for herself too.
I thought this was a quick and short way of opening readers up to the problem, demonstrating the reasons behind one particular cutter, and delving into a culture of pain. It was interesting to her Kenna, and how she bullied and was bullied (but in a not so huge and clearly defined scale), and also it was interesting that the author chose to do a 72 hour snap shot of Kenna's situation. The author also lets readers know that this is from her daughter's personal experience, but also from the countless Tumblr pages she looked into and other blogs, where teens honestly depicted their stories with pictures and agonizing stories. The ending is left open, Kenna knows she has choices and that's her problem, she just hopes that the choices that keep her from cutting are enough, but really she "could go either way."
3.5 stars out of 5, thanks Edelweiss!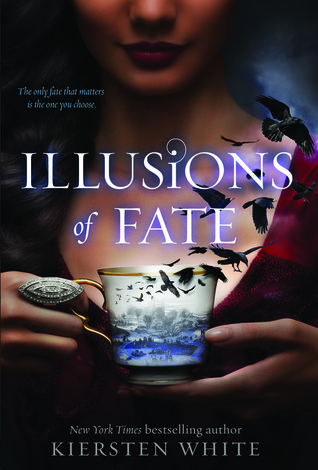 Illusions of Fate
by Kiersten White
Pub: 9/9/2014
Pg. 288
ARC Received by Edelweiss
Jassamin comes from the island of Melei, but finds her self in Albion for schooling. On a fateful day she meets Finn, a young and charismatic lord who comes from wealth, privilege, power, and magic! But along with all that Finn has a secret, and Lord Downpike will do everything in his power bring Finn down... even if that's through Jassamin. Jassamin becomes the pawn in a game she's never known existed, and her fate is irrevocably intertwined with Finn's. Will she be in over head, or will she be exactly what Finn needs to destroy Lord Downpike, or will she be the undoing of Finn?
I really liked the tie in of magic in this story. It's not very obvious and also not really terrible. The shadow was a great little addition to the whole claiming bit that seems prevalent with magical myths. Finn is such a funny character, and even though at times Jassamin can be a little too annoying she wasn't a terrible character. It was also nice to read a stand alone; sometimes you only want to be in a world for 1 book, not 6.
4 out 5 stars, thanks Edelweiss!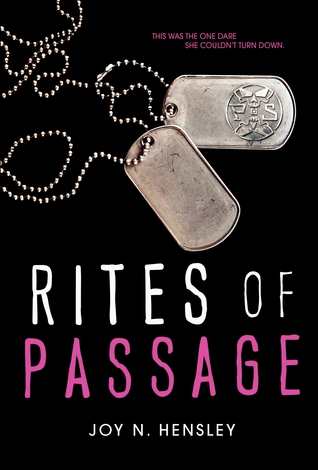 Rites of Passage
by Joy N. Hensley
Pub: 9/9/2014
Pg. 416
ARC Received by Edelweiss
"After all, when you're a girl and your Dad's pretty much the most badass lieutenant colonel there ever was, there's no way you're ever going to be able to make him proud.
Unless you do something stupid.
Like agree to be one of the first girls to enroll at a previously all-boys military academy."
Sam McKenna comes from a family of military skills. So it's no surprise that she too would like to show her skills, and after her brother's suicide she has one final dare to complete from him: join the all-boys military academy, Denmark Military Academy that is. Her second oldest brother goes there, her father went there, and her grandfather went there, no pressure for one of the first female recruits. Of course being a girl and infiltrating (because that is how the men are looking at it) an all male school can be hard. There is the sexual factor, the physical factor, and the emotional/mental factor. But Sam soon realizes that there is also a secret society, and they are hell bent on getting rid of the female recruits, especially Sam. A world full of secrets, tradition, and strict rules Sam must dig deep if she plans on making it out of her first year alive.
I liked that hazing was acknowledged and not slightly brushed upon. The cruelty of children is not necessarily the most comfortable topic, but it's a real topic and children can be the cruelest, especially when they are being led by an adult. My problem was, and usually is in YA novels, WTF parents! You seriously don't care that your child is doing something good, like dealing with equality, you know for a fact how the military academy mentality is and you still don't check up on her? And her brother (not the dead one, I love Amos he sounded like a sweetheart), screw that guy. I don't even care about the end... he let it get to that point without letting his father know. And the father... you had to have what happened from the moment your son killed himself to the moment that you came back to realize your family is important? W. T. F. --That is all.
4 out of 5 stars, thank you Edelweiss!