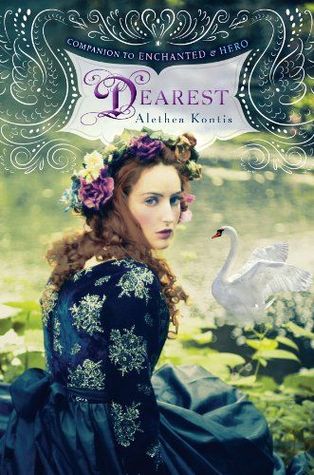 Dearest
by Alethea Kontis
Pub
: 2/3/2015
Pgs
: 320
ARC provided by NetGalley
Dearest
is the third book in the
Woodcutter Sisters
series. It is time to meet Friday, the girl who everyone loves and would do anything for, and it is time to introduce the
Wild Swans
fairytale. Friday finds herself living in the palace with her sister Sunday (the Queen) and tending the flock of children left orphaned, including a mute girl that works in the kitchen. One night Friday walks up to the destroyed tower of the palace and finds 7 naked men sleeping there. To her astonishment they turn into swans the moment she falls out of the window and catcher her and set her down to a safer height. More to her astonishment she's not afraid, if anything she feels as if she has found a purpose and a destiny.
It turns out these 7 men are brothers, and the mute kitchen girl is their sister. Because of her refusal to marry a wicked man, they must now live under a curse that can only be broken when the sister constructs 7 prickly long sleeve shirts. They must accomplish this before the ill suitor finds them. Friday and her sister lend helping hands, because Friday knows Tristan, one of the brothers, is her destiny. The question remains, will Friday be able to save the brothers and sister, or will she lose her destiny and her one true love?
4 stars. Thanks NetGalley.