The Last Time We Say Goodbye
by Cynthia Hand
Pub:
2/10/2015
Pgs:
400
ARC received by Edelweiss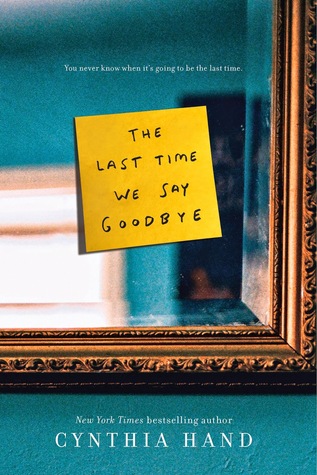 Lex was your average girl. She had a mother, a father, and a pretty awesome little brother. She's crazy smart, has great band of friends, and is confident she will make something big of herself. All these things began warping the minute her father walked out on her family, after an affair. Things weren't looking that terrible, there just happened to be a lot of animosity but overall Lex felt like things were going well. She was on her way to apply to MIT and continue to be brilliant. On the other hand Tyler had taken the divorce very badly, he was a 12 and needed his father, but he also really was upset with his father's choices and lack of empathy when it came to breaking up the home. It had gotten so bad that Tyler tried to commit suicide at 12 right after the divorce. Thankfully he only swallowed Advil, and his liver was able to process them without killing him.
Unfortunately this isn't the story of how Lex, Tyler and their family were able to overcome this issue. Instead this is the story of how Lex's life completely falls apart the day her brother kills himself. At 16 he finally couldn't take the black hole living inside of him anymore, and Lex feels guilty because she received a text message from him the day of his death. He didn't leave a note either... well he left a post-it note for his mother, but other than that he never provided closure for Lex or her family. With a few ghostly apparitions Lex stumbles upon a letter Tyler wrote to his ex-girlfriend. Could this possibly explain why he did it? Lex will do what she can to piece together what happened that last day, and in turn she has written everything down in a journal as an alternative to anti-depressants provided by her therapists.
This was such a heart wrenching story, because suicide can be one of the most hurtful topics out there. Whether you are suicidal or someone you love is, both roles have difficulties to deal with emotionally and mentally. This book shows the different facets of pain that suicide leaves on the living. Lex's mom goes off on the deep end, her father becomes a robot, Lex can barely deal with life, and everyone immediately wants to distance themselves from the family of the dearly departed. The pain is so raw, but it's real and as complicated as this topic can be in the end it is very simple: losing a loved one too soon is a hard thing to process and move on from, but in the end we are not alone and we are not to blame and our loved ones who committed suicide are not the bad guys either. Understanding is completely in order from friends, family, and ourselves.
4.5 stars. Thanks Edelweiss, and thank you Cynthia Hand.