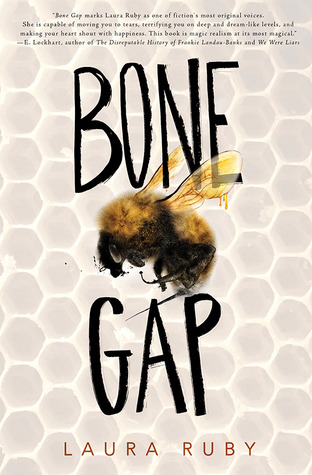 Bone Gap
by Laura Ruby
Pub
: 3/3/2015
Pgs
: 368
ARC Received by Edelweiss
This story was awesome. I really thought it would fall flat, I had no expectations for it to fulfill so much by the end.
Finn isn't anyone's favorite. People of Bone Gap know him as the resident space cadet. It's true that Finn can sometimes be in the clouds, that he doesn't look you in the eyes, and doesn't have a clue; but it turns out that there is a possible explanation for that. It's also hard for him to compete with his brother, Sean. Everyone loves Sean, he's big, smart, and endearing. After being abandoned by their mother, someone happens to pop up unexpectedly, enter Roza. Roza is from Poland, she arrived on the boy's farm bloody, bruised, and confused. The boys tend to her, and pretty soon they are a small family, until tragedy strikes. This is the point our story begins.
Everyone in town blame Finn for Roza's disappearance. He was the last person to see her, and his description of the man that took her does nothing to help law enforcement. In fact many would say that his poor description can only lead to one possibility: Roza left on her own.
This story follows the town of Bone Gap through Finn, Roza, and other's eyes. The nuances of a small town, secrets, realistic explanation woven in almost a fairy tale manner are all combined in this great book that will keep you reading to find out how Finn saves the princess.
4 stars. Thanks Edelweiss.