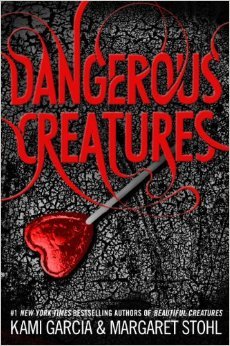 And damn that one Mortal roadie.

If she'd never met him, she would never have gotten into the game of Liar's Trade that landed her in this mess in the first place.
We are at it again with our favorites from Gatlin, South Carolina.

With what occurred in the Beautiful Creatures series behind them, everyone is heading off to college that is, everyone but Ridley.

Ridley has a plan, she always has a plan; however, this time her life depends on this plan working.

You see, Ridley decided to bet at a game, and she lost.

She lost her powers and Link's talent to a nefarious character.

Both Ridley and Link will be in Lennox Gates' debt for a total of one year.

Ridley isn't sure how he will cash out her debt, but one thing is for certain: she must convince Link to go to New York City and become part of Gates' band that he manages as the new drummer, with the chance of death.
Ridley and Link are the funny ridiculous friends you want to have around, because there is never a dull moment.

Between snarky comments, making out, and a whole lot of falling out (hence the making out) it's hard not to find these two exciting.

The drama is ridiculous and the new supporting characters were… different than those in the previous series.

It's nice to see into Link and Ridley's perspectives and frankly the bad ones are always the entertaining ones.

It was interesting to see who the villain was in this book, and the connection between Lennox and Ridley (totally saw it coming after one of her flash back dreams).

The end is ridiculous.

How can you end it like that?

I just want to know what happens, please?!?!

For those of you that loved Beautiful Creatures, do make time to go out and purchase/borrow this book!
4 out of 5 stars. Thank You NetGalley.