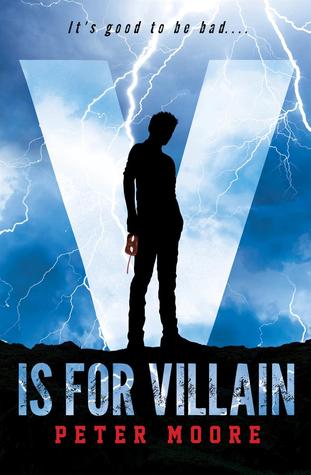 V is for Villain is a quick read, mirrored to the movie Sky High.

The children of superheroes all go to the same academy; however, if your powers are not super and you are not an excellent fit (basically a conformist and one who worships heroes) than you are sent to the alternative school… and known as an A-hole.

This is what has happened to our main character Brad.

Being the younger brother of one of the well-known and worshiped heroes out there, life has never been great for him, especially since he doesn't have any superpowers of his own.

Being dumped into the alternative program only proves that he is a disappointment to his family, but then he begins to hang out with a group of other A-holes and starts questioning the system of justice vs what the heroes call justice.

Slowly but surely, the questioning beings to form into action.
There is a lot going on in this short read, but not so much that you cannot follow what is going on.

Between genetics, heroes vs villains, and sibling rivalry there are a lot of aspects for every audience to enjoy.

I am curious to see if this is a standalone, because the book lends perfectly into creating a platform for a long series of villains vs heroes.

If you like action and sarcastic wit, you will definitely be pleased with this selection.
Thanks NetGalley, 3 out of 5 stars.