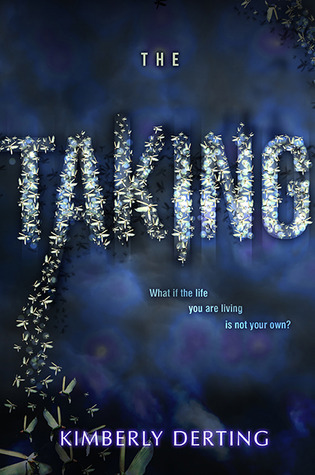 The Taking by Kimberly Derting is the first book in The Taking series.

If you are a fan of Derting, you might be used to her Body Finder series.

This was a completely different story; more aliens than guts and crime.

Kyra has just had a phenomenal game and is ready to celebrate with her teammates and then her wonderful boyfriend; however, destiny has a different idea for her.

After an argument with her father, Kyra walks into a field, away from her father's car only to be blinded by a bright light and pass out.

When she awakes Kyra feels like only a few minutes have gone by, checking her phone for reception she decides to trek it back home before she gets in trouble.

Once she arrives home, Kyra realizes that that she cannot get in and there is a toddler in the house.

Confused and nervous Kyra runs down to her boyfriend/neighbor's house, and launches herself at him when he opens the door.

The problem: that's not her boyfriend, it's his younger brother, who was 12 the last time Kyra saw him, which was the day before.
What Kyra doesn't realize is that she has been abducted by aliens and returned back to her life 5 years later without aging a day or second.

Her boyfriend is off at college and is now her ex, and his little brother is not so little anymore.

Filled with conspiracies, sweet moments, and life lessons this is the beginning of a nice series.
3.5 stars out of 5.

Thanks Edelweiss.