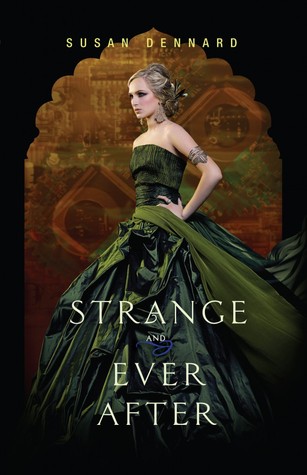 Since Eleanor Fitt was introduced in the first book, Something Strange and Deadly, I have been madly in love with the covers, story, characters, and who doesn't like an unhealthy dose of necromancy during the Victorian age?

Gail Carriger introduced me to the world of Steam Punk and I fell in love with heroines who were thrust into supernatural Victorian adventures with nothing more than a parasol for protection.

For the conclusion of this lovely and strange series adventure, mystery, and complications were not hard to find and the ending leaves readers thinking about the book even after they put it down.

As an avid fan of the series I did not appreciate how self-centered Eleanor had become by the third book, although I do understand it showed readers how power can change a person.

The setting was amazing.

Through this series readers have enjoyed Philadelphia, London, Paris and now Egypt being overrun with the dead, and the last setting really shined.

The spirit hunters are on the run in search of Jie, after she was kidnapped by Marcus, and Eleanor is keeping her secrets and her demon close.

Oliver is changing subtly, and it might not be the change he wants.

Allison steals away with Eleanor, Oliver, and the spirit hunters in search of Marcus and Jie.

As a fan I am happy with the way things ended, but I will have to say one or two things about the ending.

Dennard pulled a Roth.

From now on when an author kills a major character I will call it a Roth; however, Dennard is not guilty of a pointless death.

I understand why it happened and it's not like the character took it upon them to change the whole plan and kill themselves.

It was sad beyond repair, and I will leave it at that.

Follow our wonderful Misfit in her last adventure with the spirit hunters!
4 out of 5 stars.

Thanks Edelweiss, and thank you Dennard for your lovely story!
If you are interested here are books 1 and 2, respectively: