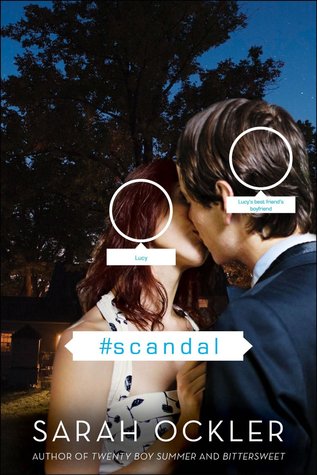 Sarah Ockler is a great YA author with some major stories out, and her recent book #Scandal just came out, but is it as awesome as her other books?

The answer is no, unfortunately I liked this book but did not love it like I have loved The Book of Broken Hearts and Fixing Delilah.

That being said, this book is fun and outgoing.

The message is important but doesn't go as deep as the two mentioned novels above, and that is why I cannot fully love it to the max… but I will say I enjoyed it.

When I grew up we had to worry about crushes, mean girls, and what to wear; however, now with the internet there are more things for kids to worry about; Lucy is a perfect example of this.

For one night Lucy must substitute as her best-friend Ellie.

She loves Ellie, so normally doing her a favor wouldn't worry her, but there are a few things to worry about:
2.
She'd rather stay out of the spotlight
3.
She's in love with her date, Ellie's boyfriend Cole
What is a girl to do?

Lucy sucks it up and goes to prom, and just when she thinks she's home free she's dragged to an after party.

At this after party Cole does the unthinkable, he kisses her under the stars.

The kiss is both amazing and epically wrong.

How could Lucy do this to her best-friend?

After, Lucy and Cole agree that Ellie needs to know and Lucy basically brushes off her feelings on the matter and makes Cole do the same… that is until she gets to school and realizes everyone at school knows what happens.

Actually everyone at school knows what everyone did on prom night, because pictures and videos were uploaded to Facebook, via Lucy's account.

She didn't do it, but no one is listening.

When you are public enemy number one, how do you get the truth out?

With the help of friends, minus Ellie for obvious reasons, Lucy is out on the prowl looking for the culprit.

All the while she is dealing with being harassed by classmates, final weeks of senior year, Cole's focused attention on her, winning back her best friend, and a secret scandal blog writer that seems to know everything that is happening in school.

A fun light read, perfect for the summer.
3.5 stars out of 5.

Thank You Edelweiss