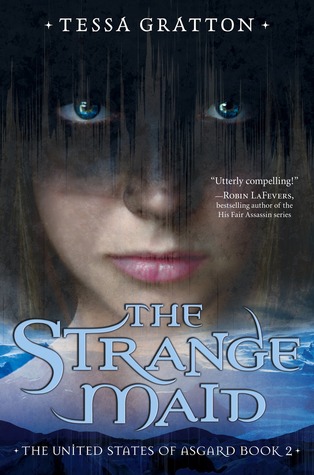 The Strange Maid by Tessa Gratton is the second book in The United States of Asgard series.

I really fell for this series in book one, when Soren Bearstar was introduced.

This magical world is set up as an alternative Norse influenced reality.

The world is pretty much the same, but people are separated into champions for different gods, for Soren it was Odin and then Boulder.

This story is about Signy Valborn, trolls, Ned the Spiritless, Valkyries, and solving riddles.

Signy lost her parents, and out of despair climbed the tree, where Odin first introduced himself to her.

On that night he called her his little Raven and asked her to be one of his Valkyries.

Signy took well to this and began training, until one day Odin appeared again and left her with a riddle that changed her life and made her runaway.

Signy must figure out her destiny, and Ned will help guide her there, but if there is one thing we can learn about the gods is that they are always messing with destiny, and everyone is a pawn in the big game.

Fun, action packed, and Soren is back!
4 out of 5 stars.

Thank You Edelweiss.