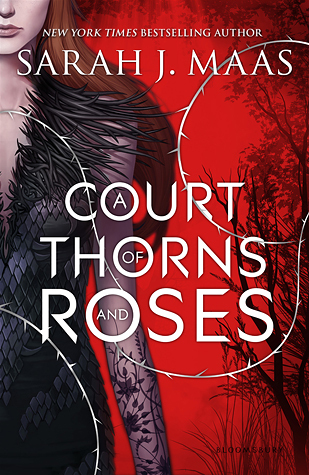 A Court of Thorns and Roses
by Sarah J. Maas
Pub
: 5/5/2015
Pg
: 416
ARC received by NetGalley
A Court of Thorns and Roses
takes place in a world where the ancient religion was that of the Fey. As time passed and a war happened the humans separated themselves from the Fey, and soon lost their old ways, and all that remained was bitterness and hate. Feyre knows the stories of the Fey, she finds it silly, but since she has to hunt for food, she also knows that the forest hides many secrets. During an outing in at winter time, when food supplies were running low for her family, Feyre stumbles upon a deer. Unfortunately that deer had a massive wolf tracking her as well. In a quick moment Feyre decides to kill the wolf and the deer in order to save her starving family. Even though the wolf was almost supernatural big, she is convinced that it was only a wolf and not some ethereal being... she was wrong.
Tamlin, a High Lord Fey, comes knocking at Feyre's door. She must pay the price for having killed a Fey that meant her no harm. Her punishment is that she must returned to the land of the Fey for the remainder of her life. Feyre doesn't want to leave her family, she is the only one that makes sure they have food and money, and she promised her mother that she would always look after her sisters Nesta and Elain. After Tamlin brings Feyre to the Fey world, he lets her stay in his home for protection against other Fey.
I loved this book! I love the Scottish story of Tamlin, and I also loved
Cruel Beauty
.
ACOTR
spins the story of Tamlin and Beauty and the Beast. The character Tamlin is essentially the Beast and Feyre is Beauty. Feyre has to overcome her hatred for him and his kind, she has to learn to trust him, and eventually she has to love him. Of course Feyre knows nothing of this. The characters were great, and Tamlin and Lucien were pretty funny at times, more so Lucien. The heat between Feyre and Tamlin is intense but not as intense as
Cruel Beauty
, and even though I really love
CB
I just fell more in love with
ACOTR
because where
CB
was dark and eerie,
ACOTR
was cold, lavish, and calculated (much like a fairy). I loved Tamlin as well, you could tell he had a real struggle but he was also a decent person in the story, compared to his kind.
5 stars. Perfection. Thanks NetGalley