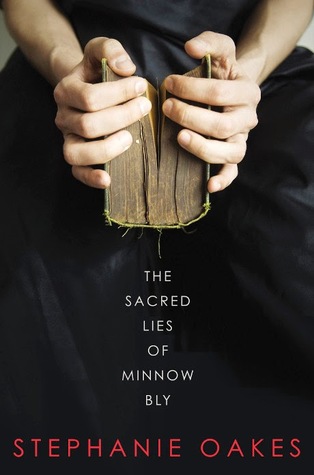 The Sacred Lies of Minnow Bly
by Stephanie Oakes
Pub
: 6/9/2015
Pg
: 400
ARC Received by Edelweiss
Minnow Bly used to play outside, eat ice cream, read stories, and do the things little kids do, but one day her father came home with new ideas about a prophet and the chosen people. The same idea that changed Minnow's life, and countless of other people, when a cult was created and executed deep in the woods. With a prophet that rules with an iron fist, and Deacons (like Minnow's father) who are willing to enforce the rules or punishments dealt out by the prophet, many of the community live in fear. Not only is that an issue, but there is the issue of multiple wives and child brides.
The Sacred Lies of Minnow Bly
delves into the world of cult practices and how these communities can break an innocent spirit. Not only is the story about Minnow's life in the community, but also the crime that ended the whole community life and brought awareness to the authorities about said crimes committed against disobedient members of the community. Minnow is just one of the victims, having had her hands cut off for disobeying "God's" orders to marry the prophet. I really liked the way the story unfolded from memories, testimonies, and conversations with other characters and Minnow. The deceptions and secrecy in this novel make it a thriller, but the present actions in the novel that deal with Minnow in juvie are pieces of darkened humor.
This story in many ways reminds me of
All the Truth That's In Me
, and I loved that story. It's worth the read because it deals with redemption, lies, complacencies, and perseverance.
3.5 stars out of 5. Thanks Edelweiss.