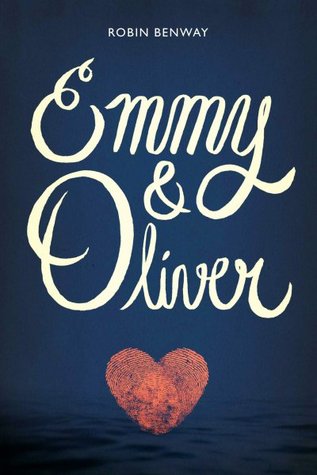 Emmy & Oliver
by Robin Benway
Pub
: 6/23/2015
Pgs
: 352
ARC received by Edelweiss
Emmy and Oliver were the best of friends up until second grade, up until the moment Oliver's father picks him up to school on a Friday, up until Oliver and his father disappear without a trace. Since second grade Emmy and her 2 closest friends have had to deal with the fallout of your best friend being kidnapped as a little second grader. Parents are weary, Emmy doesn't get to sleep over people's houses much, and the community becomes more closed off. However, Emmy, Drew, and Caro have adjusted to this and have grown closer since that fateful day their friendship of 4 became a trio in second grade.
They have adjusted well, but Oliver is back now, 10 years later. Oliver didn't know he was being kidnapped, he didn't know his father lied to him; all Oliver knows is that he loves his dad, everything he knew was a lie, and he doesn't really know who he is anymore. Even when his childhood friends: Drew, Emmy, and Caro are around him, he's not even sure about their friendship. Slowly he begins to open up to Emmy, since they had always been closer living right next door.
Emmy and Oliver begin to show parts of each other they keep hidden from the rest of the world. They slowly build confidence in themselves with each moment they spend together, and when the going gets tough they become an integral part of each other's life. Emmy might have to hide who she is to her parents, and Oliver might have to hide his true feelings from his mother, but they both will learn that some things are worth the risk.
I really liked this story of a readjusting after a kidnap. No one really ever thinks about the people who were left behind, just the family and the victim (rightly so), but what happens to those we leave behind? Do they become suspended in time, ready to be the same people when the victim returns? Do they move on, and just become one of the crowd?
4 Out of 5 stars. Thanks Edelweiss.