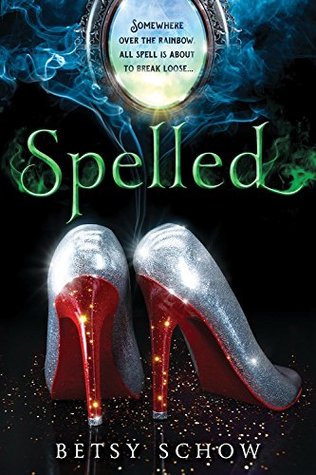 Spelled
by Betsy Schow
Pub:
06/02/2015
Pgs:
352
ARC received from Edelweiss
Rule #17: To rescue a princess from magical imprisonment, a handsome prince must first slay the dragon. If one is not available, a large iguana will do in a pinch.

Spelled
is a remarkable blend of classic fairytales,
The Wizard of Oz
, and
Clueless
. Dorthea is the crown princess of Emerald. Due to a curse that was placed on her family many years ago, she can never go outside of the palace walls or else. Driven crazy by being locked up, having to pick a prince to marry, and throwing tantrums makes Dorthea do one of the dumbest things in fairy land... she makes a bad wish. Now everyone she loves is gone or turned into a crazy version of their fairy tale, and all the different kingdoms have been moved around. Armed with some great heels, a kitchen maid, and the suitor her parents picked for her (who annoys her to no end Dorthea must escape the Gray Witch and find a way to take back her wish.
It was such an entertaining book. I found myself really liking the character dynamics, the jokes, and the adventure. By the end I was rooting for Dorthea, and she had excellent character growth. It seemed as if the ending is open to a sequel or follow up book, and I am so there.
3.5 stars. Thanks Edelweiss.