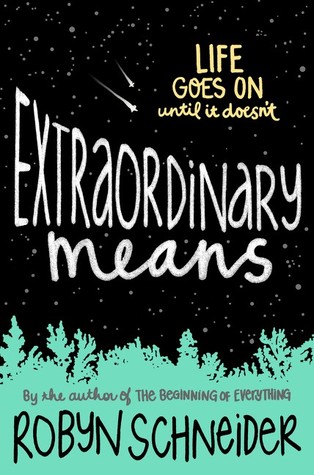 Extraordinary Means
by Robin Schneider
Pub
: 5/26/15
Pgs
: 336
ARC received by Edelweiss
"...no matter how strong the current beats against you, or how heavy your burden, or how tragic your love story. You keep going."
Lane is a pretty smart guy. It's his senior year, he has a great and smart girlfriend, and he's gearing up to apply to colleges, which is all he's ever thought about. But plans have a way of changing, because Lane has been diagnosed with TB; and not just any tuberculosis, but a rare strain that cannot be treated at this time. So Lane must follow doctors' orders and go to the Latham House, a facility that has over a hundred other teens diagnosed with the same strain of TB as Lane. He just needs to stay focused, he just needs to get better, because he's planned his whole future.
Sadie is a pretty girl who can sometimes get into too much trouble. She's fun, and her group of friends have figured out how to get contraband items into the school. It is suffice to state, that Sadie and her friends kind of run Latham House, but of course they have been there long enough to figure some things out. Sadie doesn't want to think of the future or lack thereof, but when you have TB how can you not sometimes drown in all your own thoughts? Then Lane comes to Latham House, Lane who stood her up at the camp dance when they were kids, Lane who she really liked but played a joke on her like everyone else that summer, Lane who is just so incredibly likeable.
Extraordinary Means
is a book about young love, death, and hope. Sadie, Lane, and their group of friends try to figure out their place in a world that would wish to keep them far away from everyone else. Their bonding and adventures give them a reprieve from their every day battle with their sickness, but when you're sick you cannot deny the fact that every moment might be your last. And when your sick and have been holding on for so long, sometimes tragedy strikes.
4 out of 5 stars. Thanks Edelweiss.